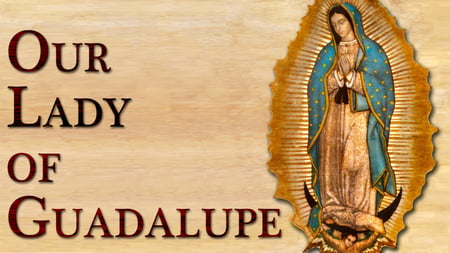 Our Lady of Guadalupe brings a message of love and respect
Reflections on the readings for the Feast of Our Lady of Guadalupe (December 12, 2018): ZEC 2:14-17; or RV 11:19; 12:1-6; 10; JUDITH 13:18,19; LK 1:26-38
MISSIO offers "Mission In Scripture" to nurture a missionary heart, providing reflections on the missionary themes in the readings of Sundays, Feast Days and Holy Days.
As we hail Mary as Our Lady of Guadalupe today, we find ourselves using the same Gospel reading we had for the Solemnity of the Immaculate Conception only four days ago.

Once more we contemplate the great gift God offered us in the mother of His Son who would become our mother as well. "Mary said, 'Behold, I am the handmaid of the Lord. May it be done to me according to your word.' Then the angel departed from her" (Luke 1:38). The Blessed Virgin Mary always considered herself the servant of God. She was and she is. Yet she is so much more to those who turn to her to guide them in the footsteps of Jesus Christ.
Almost 500 years ago, Mary showed herself to a poor widower near Mexico City. St. Juan Diego was an Aztec who had been baptized in the Catholic Church. It was through this unassuming man that God worked a miracle through Mary that lead to the conversion of millions. Our Lady of Guadalupe looked like an Aztec princess and it was that image of her that appeared on the cloak of Juan Diego when the roses she sent to the local bishop tumbled from the cloth – the same image, on the same cloak we still see today at the Basilica of Our Lady of Guadalupe. It is a wondrous reminder of our Lord's love for His people, especially those who are poor, humble and all but invisible to the larger world – just like Mary was two thousand years ago.
Suggested missionary action: Let us honor our Lady of Guadalupe, patron of the Americas, by valuing our brothers and sisters. Let us respect all God's children.
Celebrate Advent with the missions of the Church. Visit MISSIO.org.