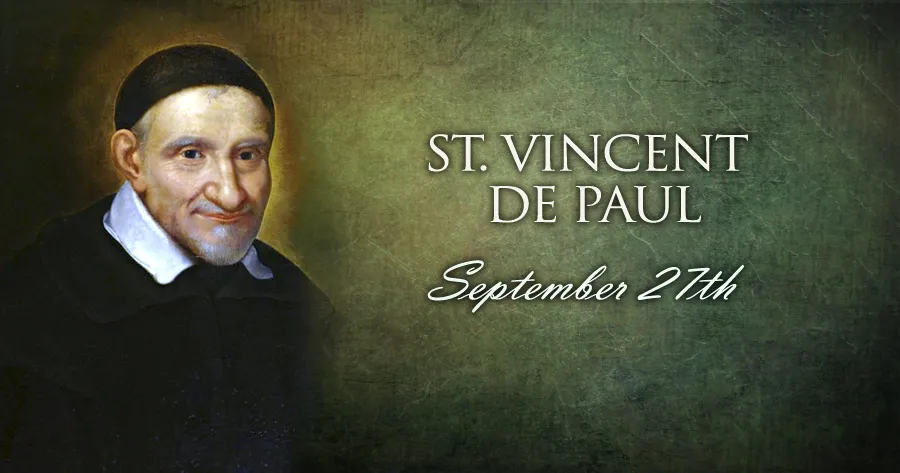 Let us remember and imitate the charitable work of St. Vincent de Paul
Reflections on the readings for the Memorial of St. Vincent de Paul (September 27, 2022): JB 3:1-3,11-17,20-23;PS 88:2-3,4-5,6,7-8; LK 9:51-56
MISSIO offers "Mission In Scripture" to nurture a missionary heart, providing reflections on the missionary themes in the readings of Sundays, Feast Days and Holy Days.
He encouraged lay people as well as priests and consecrated men and women to serve the poor and struggling around them.

Today we honor a saint who spent most of his life striving to ease the burdens of those in great need; those who were poor, sick, imprisoned, and otherwise suffering in a world that largely ignored them. St. Vincent de Paul began life as the child of a peasant family in late 16th-century France. As he grew up, his main desire was to get away from this difficult life. Since he was of a scholarly character, he pursued his goal by seeking ordination. It was only after being a priest for several years that he completely opened his life to God's love for those in greatest need of mercy. Called to hear the confession of a dying man, a peasant, St. Vincent saw his destitute situation closeup. He finally realized that his true vocation was to help the vast number of God's poor and suffering people. Not satisfied by serving God's wounded children alone he constantly urged others to take up the cause. According to St. Vincent de Paul, "God's works are not regulated by our plans and wishes. … The spirit of the world is restless, and wishes to do everything. Let us leave it to itself. Let us have no desire to choose our own paths, but walk in those which God may be pleased to prescribe for us. … Let us offer ourselves to Him to do and to suffer all things for His glory. … If He desires results, they rest with Him and not with us." He organized help for the sick and needy in many parishes. In time, he established an order of priests, the Congregation of the Mission, and one of nuns, the Daughters of Charity with the cooperation of St. Louise de Marillac. St. Vincent managed to engage the financial help of wealthy people to support his ministries to prisoners and galley slaves, as well as impoverished men, women and children in cities and in country areas.
St. Vincent died in 1660 at eighty years of age. He was declared a saint in 1737. In 1833, Blessed Frederic Ozanam founded a charitable organization in his name: The Society of St. Vincent de Paul. It serves those in need while also encouraging the spiritual growth of its members. It now exists in 153 countries.
Suggested missionary action: We can ask St. Vincent de Paul, known as the Apostle of Charity, to guide our efforts in relieving the various troubles and afflictions of our brothers and sisters. This is something we can pursue in our daily lives as well as supporting the efforts of the Church.